» Stats
Members: 68,288
Threads: 144,881
Posts: 6,980,988
Top Poster: Admin Dirk (58,853)

Welcome to our newest member, lexnop
» About RPG Crossing
If you'd like to craft stories and play role playing games
with thousands of people from around the world,
you've come to the right place!


RPG Crossing is a 40,000+ member online community that focuses on play by post role playing games (PBP RPG) and features such systems as Dungeons and Dragons (2e, 3e, 3.5e, 4e, 5e), Pathfinder, GURPS, d20 Modern, Serenity, Star Wars, Storytelling (World of Darkness) and many more. We are an active community with many new games looking for players every day, and with plentiful guides and tutorials for the new player and the veteran alike, including: New Player Solo Games to introduce new players to PBP and/or RPing; and DM Mentoring - a forum full of collaborative DM tools.

We also publish Explosive Runes, a terrific free role playing magazine with stunning artwork and great articles.

Free membership also gives access to our character sheets. We currently host over 82000 sheets for 10 different role playing systems!
» News
All donors to our #mentalhealth drive pick up a bag of RPG goodies worth over $60!
Dec 06, 2022 - 10:40 AM - by Birched
Award-winning publishers have donated their amazing work to help support our drive (thank you!). Here's what every drive participant who donates $10 or more through our team page for the Brain & Behavior Foundation OR who adds a full year CS to their account this December (either by purchasing a CS for themselves or if they receive one as a gift) can get:

Grand Prizes - for the TOP SIX DONORS ONLY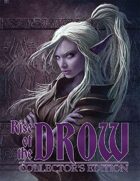 AAW will send a hardcover copy of "Rise of the Drow: Collector's Edition" (MSRP $129.99) to each of the six highest donors to charity on our team page! Check it out!
$60+ in prizes for EVERY donor!
... [Read More]
Join our 11th Annual Membership Drive & Fundraiser to Support Mental Illness Research
Dec 01, 2022 - 9:54 AM - by Birched
It's Time For Our 11th Annual December Membership Drive and Charity Fundraiser!
Today Until Midnight PST Saturday, Dec 31
Note: current CS members can check their expiry

... [Read More]
Are you or your company interested in being a matching funder? #mentalhealth
Nov 18, 2022 - 4:58 PM - by Birched
Hello!

Once again, the RPG Crossing community will be raising money towards the Brain and Behavior Research Foundation this December. Over the past 10 years, we have raised over $17,000 for this charity, and matching funders have been a big help in the past few years. Alas, this year we do not have one!

Being a matching funder is a great way to double the impact of a donation (perhaps one you would be making anyway.) If you or your company would be interested in supporting mental health research through the Brain and Behavior Research Foundation (BBRF) as a matching funder for our charity drive this year, please contact me (Mark/Birched, owner) via private message at rpgcrossing.com, DM on twitter, message on Facebook, or the contact email listed on the site. Please be prepared to make a charitable donation to the BBRF of at least $1000 (up to as much as $2500 should you choose to match for the whole drive.) The donation will be directly through our team page at the BBRF -- neither I nor RPG Crossing handle any of this money. The BBRF is a US-based charity, in case a receipt for income tax purposes is of interest.

I will run this drive and we will do plenty of good whether or not we have a matching funder, and already have received word from multiple generous members of the wider RPG community who will be providing prizes for participants!

See you in December, and... [Read More]
PotM October
Nov 13, 2022 - 7:16 AM - by chocoladevla
to barge in with the door (very odd silly Dutch expression ;-)

CONGRATS to Ballinray for winning this Month's 'Post of the Month'- contest! Their post received high praise, not only from writeline who nominated this post but also from the Judges. Please start reading over here and send some RPXP-love by clicking those scales at the right top of the post.

To quote writeline: What's special about it is that the GM came down from his seat and joined the team as an NPC, telling the story much like a player would perceive things. Every RP gamer must have it in themselves to appreciate this experience of playing alongside their GM - from time to time, instead of across a dividing line of story responsibilities. It's something I wish... [Read More]
New badges for official contest judges!
Nov 02, 2022 - 5:29 PM - by Birched
Announcing a special badge to recognise past and current judges of official RPG Crossing events!
We recognise that being a volunteer judge, while (mostly) fun, can also be a lot of work, and we'd like to recognise the time and commitment that our judges put into site events. To do so, we have introduced a new judge badge, in the form of the blue dragon that you see to the left and right of this paragraph.
... [Read More]
PotM September
Oct 19, 2022 - 5:07 AM - by chocoladevla

- better late than never - CONGRATS to Mallothi for winning the post of the Month September!!! The praise was real and the judges agreed with NightCheese's recommendation. To quote:

Throughout the entirety of this game, Mallothi has met each GM post with a most beautiful and poetic mix of humor, jaw-dropping world-building, suspense, and just plain 'ole good writing. This final post of the game did all of that and more. This post brought back adored NPCs, closed the circle on the mission at hand (paw?), and some other really cool stuff that I don't want to spoil for readers. As a player, I could not think of a post better suited to close out a two-year adventure.

If you are curious please click the link, start reading and show some... [Read More]